Book Club @6:00 PM
February 9 @ 6:00 pm

-

7:30 pm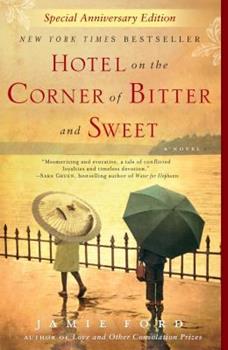 Join us for a lively discussion about,  Hotel on the Corner of Bitter and Sweet by Jamie Ford
Thursday, February 9, 2023 @ 6:00 pm.
Through intertwined timelines—one in the 1940s and one in the 1980s—Hotel on the Corner of Bitter and Sweet tells the love story of a Chinese American boy, Henry Lee, and a Japanese American girl, Keiko Okabe. Henry and Keiko meet in Seattle during World War II; they both attend an all-white school called Rainier Elementary. Henry is a first-generation American: his Chinese nationalist father hates Japanese people, whose forces have been at war with China's for decades. Keiko is a second-generation American; both her parents were born in the United States. Henry and Keiko work in their school kitchen together, and though Henry worries about drawing his father's ire for befriending a Japanese person, he begins spending time with Keiko outside of school. Aside from Keiko, Henry doesn't have many people to talk to. His father has forbidden him from speaking Chinese at home, and since neither his father nor his mother speaks strong English, Henry's home life has been incredibly quiet.
Henry and Keiko bond over their shared love of jazz music. One night, while attending a performance by their friend Sheldon Thomas and famous Seattle musician Oscar Holden, Henry and Keiko witness the arrest of several Japanese citizens by the FBI. Not long after, many Japanese families begin to burn letters and family photos—anything that might cause the police to be suspicious of their loyalty to America. Keiko finds she can't bring herself to burn her family's photo albums and asks Henry to hide them for her; he agrees. Shortly after Henry meets Keiko's parents for the first time, word comes that the Japanese American families are Seattle will be removed and resettled in internment camps.
Henry says a heart-wrenching goodbye to Keiko and her family at the train station. School without Keiko is miserable, but when the cafeteria manager, Mrs. Beatty, asks if Henry wants to join her in setting up a mess hall at Camp Harmony, where Japanese families are being held before being moved inland, Henry jumps at the chance. Soon, Henry is visiting Keiko every Saturday with Mrs. Beatty's help, even arranging to bring Keiko some birthday presents, including a copy of an Oscar Holden record. Meanwhile, Henry's parents find the family photos Henry had hidden for Keiko, and Henry's father symbolically disowns him. Shortly after her birthday, Keiko and her family are moved from Camp Harmony to a permanent location in Idaho. Henry says a cold goodbye, not wanting to make things more difficult by expressing his love for Keiko.
Henry returns home to find that his father has had a stroke, for which Henry blames himself. Eventually unable to bear his parents' silence at home, Henry decides to visit Keiko in Idaho, and Sheldon accompanies him. At Camp Minidoka, Henry and Keiko share their first kiss and spend a wonderful day together. When he arrives home in Seattle, Henry learns that his father has booked him passage to China, where he will finish his Chinese schooling. Henry refuses to go until the war is over and Keiko has come home; he has promised her he will wait for her. Henry and Keiko exchange letters over the following years, but Keiko's replies become increasingly rare. Eventually, thinking Keiko has given up on him, Henry sends a final letter asking Keiko to meet him at the Panama Hotel before he has to leave for China. Instead, a young woman named Ethel Chen, who works at the post office and has been mailing Henry's letters for him, shows up. Henry and Ethel begin dating, and become engaged on V-J Day. That same day, Henry's father dies—but not before admitting that he arranged to block Henry's letters from reaching Keiko, and vice versa. Devastated, Henry decides that all he can do is move forward in his new life with Ethel.
This entire story is revealed through flashback. In the present-day timeline, Henry's memories of his childhood are reawakened when the belongings of Japanese American families are uncovered in the basement of the Panama Hotel. Henry gradually begins to share his past with his son, Marty, and Marty's fiancée, Samantha. Ultimately, Marty tracks down and contacts Keiko on his father's behalf; she is widowed and lives in New York City. Marty buys his father a ticket and Henry goes to New York, though not before saying his goodbyes to a dying Sheldon. In New York City, Henry comes face to face with Keiko in her apartment. She has the same eyes, and the two speak their old childhood catchphrase to each other without missing a beat.