Science Day w/Dr. Cummings
July 22 @ 11:00 am

-

1:00 pm

Free
Can algae clean water?
Have you ever seen spirogyra, you probably have but didn't know it. Join us for a fun educational program of microscope and clean water science.
The objective of this Bioengineering Day is to learn about different technologies that are used to produce clean, drinkable water.
Participants will perform a hands-on "biosorption" experiment using native algae to remove harmful contaminants from river water to demonstrate an alternative water treatment technology which can be used to remediate the wastewater from coal and gold mines.
Microscopes will available so that participants can see where this algae came from and what it looks like on a microscopic level. There will also be a number of other samples available for participants to explore.
We would respectfully ask that participants endeavor to arrive on time, as the activity will start promptly at 11am. We will explain things in sequence and the group will progress through the activity together, so it helps to have everyone start together. It is not necessary to stay for the entire duration of the event and, of course, if you are unable to arrive until later we would still be happy to have you join us whenever you can!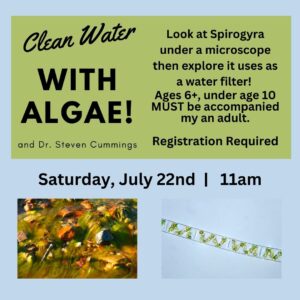 Related Events