Book Club @ 6:00 PM
January 12 @ 6:00 pm

-

7:30 pm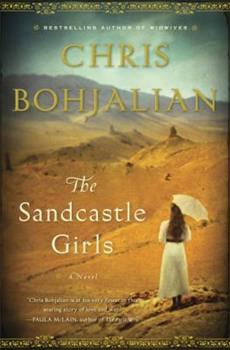 Join us for a lively discussion about the book,  The Sandcastle Girls by
Chris Bohjalian. Thursday, January 12, 2023 @ 6:00 pm.
Summary:
A sweeping historical love story, The Sandcastle Girls introduces us to Elizabeth Endicott, an adventure-seeking graduate of Mount Holyoke College who travels to Syria just as the Great War has begun to spread across Europe. With only a crash course in nursing, Elizabeth has volunteered on behalf of the Boston-based Friends of Armenia to deliver food and medical aid to refugees of the genocide. She soon befriends a striking Armenian engineer. He is young, but he has already lost his wife and infant daughter to Turkish brutality. When Armen leaves Aleppo to join the British army in Egypt, he and Elizabeth begin a daring correspondence, bridging their very different worlds with words of love and hope.
Interwoven with their tale is the story of Laura Petrosian, a contemporary novelist living in suburban New York.  Although her grandparents' ornate Pelham home was affectionately nicknamed "The Ottoman Annex," Laura has never really given her Armenian heritage much thought.  But when an old friend calls, claiming to have seen a newspaper photo of Laura's grandmother promoting an exhibit at a Boston museum, Laura embarks on a journey back through her family's history that reveals love, loss—and a wrenching secret that has been buried for generations.