Book Club @ 6:00
2022-07-14 @ 6:00 pm

-

8:00 pm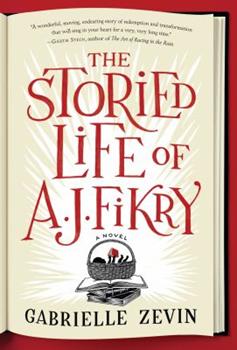 Join us for a lively discussion about  the book, The Storied Life of A.J. Fikery by
Gabrielle Zevin
, Thursday, July 14, 2022 @ 6:00 pm.
Summary:
A titular character, owner of a bookshop on Alice Island, a fictional island off the coast of Massachusetts. A.J. Fikry's stubborn and bitter personality is on full display at the start of the story when he learns that his favorite publisher's agent has died—and been replaced by a clumsy blonde named Amelia Loman. He is immediately disgusted by her taste in books and behaves so brutishly toward her that Amelia storms out of the shop.At home alone, A.J. gets drunk and misses his dead wife. Grieving and reading are the only events to punctuate his otherwise monotonous existence. Though he regrets his poor treatment of Amelia, he feels worse for himself. A.J.'s self-pity only worsens when he realizes that someone stole his rare copy of Edgar Allen Poe's Tamerlane during one of his drunken stupors. Shortly thereafter, A.J.'s story takes a surprising turn when a two-year old girl named Maya is abandoned in his bookstore.
Maya changes A.J.'s life. She is bright, loves books, and becomes his adopted daughter and raison d'être. Their unlikely partnership comes under fire years later when A.J., out of pure boredom, finally attempts to read the book Amelia so vehemently recommended all those years ago, The Late Bloomer. Suddenly, A.J. notices something in Amelia Loman he hadn't seen before: a similarity in their souls.
Hardly the dating scene's most likely suitor, A.J. spends a good portion of the novel simultaneously trying to devise a way to reconnect with Amelia and attempting to provide Maya with an idyllic childhood. He succeeds on both fronts, marrying Amelia and creating a family for Maya. When A.J. gets sick and dies at the end of the novel, he does so having learned that to live as an island unto oneself, even an island filed with books, is not to live fully.